Released n98-magerun Version 1.93.0


The year is nearing its end fast and we have bundled a new n98-magerun release for you. The version contains some new commands, enhancements (listed at the end of the post) and updated Symfony components to 2.6.
New Features
Unlock Admin User
Any user of the Enterprise Edition had this. If have enabled automatic user locking you must wait some time
if user will be unlocked.
Now you can unlock any user with the new admin:user:unlock command.
Clean multiple caches at once
It's now possible to pass more than once cache identifier to the cache:clean command.
$> n98-magerun.phar cache:clean full_page block_html eav

Better Cache Handling
Alan Storm optimized the cache initialization. I some cases we recreated the already initialized cache. This is now fixed.
Enable/Disable Module (by definitions)
Enable or disable a module in app/etc/modules/*.xml by name or codePool:
$> n98-magerun.phar dev:module:enable Acme_Foo
$> n98-magerun.phar dev:module:disable Acme_Foo

Examples with codepool option:
$> n98-magerun.phar dev:module:disable --codepool="community"

Please not that the codepool option affects ALL modules of the codepool.
DB-Status / Variables
Cyrill Schumacher added two new command to the db namespace.
db:variables -> Print all important MySQL variables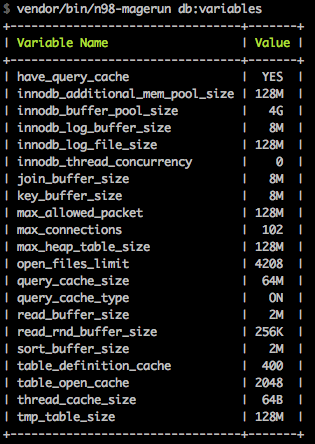 db:status -> Print status informations like the current used InnoDB Buffer Pool hit rate.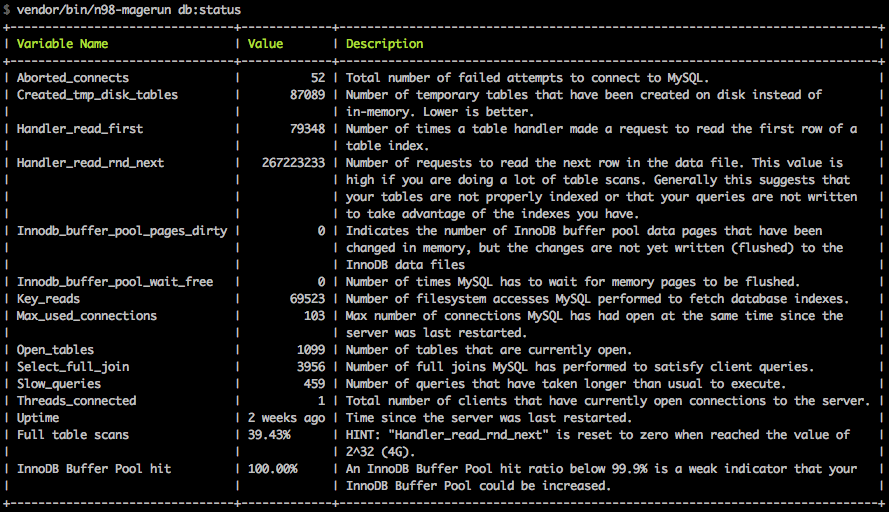 Refactored bash completion script
On some platforms the current version of the bash complection script is not working. Johannes Klein provided a refactored bash completion script which contains a workaround for some problematic PHP versions.
We got also a patch by Paweł Bogut which is not needed anymore because we can provide a command list which is parsable without a regex.
Other Improvements